HARDWOOD
Products
Hardwood flooring remains one of the most popular choices for home flooring. It's a versatile solution that makes a distinctive statement with style variation. Every plank of hardwood is a unique piece of nature that matures over time with age and wear.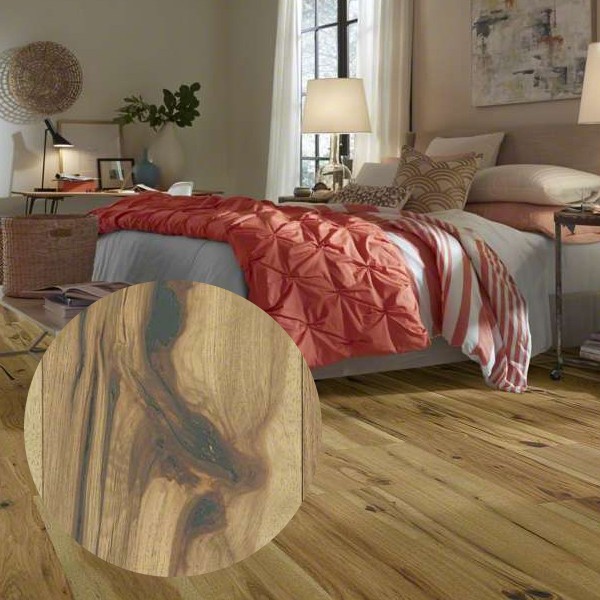 Light Hardwood and Dark Hardwood
Hardwood flooring styles are as varied as the wood species from which they're made. Species vary with its own unique natural characteristics include wood variation, wood grain, knots and mineral streaks. Species range from light to dark and vary among each type including: 
| | |
| --- | --- |
| Light Woods | Dark Woods |
| Maple | Cherry |
| Oak | Walnut |
| Bamboo | Mahogany |
| Pine | Hickory |
Domestic Hardwood and Exotic Hardwood
Domestic Hardwood is grown in the US while those from outside the US are known as exotic hardwoods. At TUF Flooring, many of our customers take pride knowing we support local business and those hardwoods grown from American soil. Our domestic flooring is often manufactured from high quality hardwoods and are commonly available in Maple, Oak, American Cherry, American Walnut, Pine and Hickory.
Exotic Hardwood flooring features species such as Mahogany, Bamboo, Brazilian Cherry and Brazilian Walnut. There are other domestic and exotic flooring options from which to choose! Come to our store today and speak with one of our knowledgeable sales representatives.
Solid Hardwood vs. Engineered Hardwood
What's the difference? Solid hardwood is the traditional version of hardwood flooring. They feature planks made from a single, solid piece of real wood. Engineered hardwood on the other hand is a layered wood floor made from thin slices of hardwood layered on top of another piece of high-quality wood composite such as plywood. Engineered wood is often more cost effective and versatile – and can often be installed on any grade, even in basements.
The durability of your hardwood is determined largely by the thickness of each plank. In addition, other factors include the wear layer and finish.
Standard hardwood planks come in a few different thicknesses. A ½-inch or 3/8-inch thickness is common for engineered hardwood planks, for instance. Solid hardwood floors, on the other hand, are much thicker – often ¾-inch with an added wear layer. This wear layer allows for additional refinishing. This is a selling point of solid hardwood over engineered. Engineered wood can often be sanded, but likely only a single treatment over its lifespan.
Hardwood grading: hardwood vs. softwood
When considering and selecting a species of hardwood, note the differences between hardwoods and their counterpart softwoods:
Hardwoods
Durable and suitable for heavy foot traffic
Longer lifespan
Often are prefinished and/or stained
Feature darker tones
Higher cost
Include: Maple, Oak, Walnut
Softwoods
Less durable; Soft & flexible
More prone to dings and scratches over time
Often lighter tones
Lower price than most Hardwood options
Includes: Pine and Spruce
Distressed hardwood style
Today's popular styles feature authentic, worn and rustic looks. This is modernly achieved through additional treatments to the flooring during manufacturing to give a floor its unique look and feel. For example, a popular style is the distressed wood look. Manufacturers put their floors through various processes to give them the look of antique or reclaimed wood, hand-scraped like older floors and other process to give them a much sought-after style that wouldn't be achieved if done by hand.
Distressed hardwood styles solve both of those problems by making the antique look more accessible. Options include levels of customization from your choice of color, species and durability to give you the look and feel you want right out of the box.
Looking for a rustic look? Hand-scraped and wire-brushed are both examples of distressed styles that fit in with farmhouse, rustic or country-inspired homes. Ask our experts at TUF Flooring for more details about the differences.
Underlayment: is it required?
Underlayment for your hardwood flooring is invisible once installed. However, it plays a critical role to the overall performance of the floor. We always recommend it for hardwood floors. A few of the many reasons include:
Evens out imperfections and variation in the subfloor
Adds a slight cushion to the floor while reducing foot traffic noise
Keeps hardwood insulated and warm
Adds moisture resistance (ideal for porous materials like natural wood)